A shetland pony named Socks helped teach me how to overcome adversity. We lived on a cattle ranch in Wyoming and my grandfather bought him for me when I was 4 years old.
Socks had a hard and dry little heart; all he wanted to do was terrorize his little rider. Dad would get on him and he was a well-mannered horse. When I got on him, however, I couldn't get him to do anything. Worse yet, when Dad wasn't looking, Socks would kick up his heels to see how much it would take to buck me off.
As time marched on, I got very worried because Dad said I wouldn't get a "real" horse until I learned to ride Socks. I worked at it and finally rode Socks down the meadow about half a mile. We had to cross a ditch to go further. Socks turned his neck to get a good look at me before he let loose and bucked high and fast as he crossed the ditch. I went flying through the air.
Dad watched and saw the whole thing. I was humiliated; I cried and walked away but my Dad caught Socks and made me get right back on. Right then and there, not later when I'd plucked up enough courage to get back on and ride Socks again.
Although I didn't know it at the time, neuroscience tells us that new memories remain unstable for a short period of time after an event. It's during this unstable period that memories are being coded and consolidated into your subconscious.
We can erase our fear of an event if we can alter our memory of it, and the best time to do that is during the unstable period. That unstable period lasts for the first few hours.
We can learn how to overcome adversity and come out stronger than before if we do these things:
1. Get Back In The Saddle
We have all had experiences with colleagues, employees, or prospective clients that have left us unsettled, afraid, or unsure of how to move forward. We learn how to overcome adversity if we find ways to tackle the problem again so we can update our memory before that negative feeling becomes codified in our brain.
It might be with a different colleague, employee, or client but don't let the experience of fear or anxiety get embedded into your thinking. It is important, however, that you make sure your environment is safe before trying to extinguish your fear-conditioned memory.
TIP: Replace a bad memory with a better one. The sooner, the better.
2. Grit Up
When I interviewed with the FBI, they liked that I wasn't coddled, pampered, or entitled. Growing up on a cattle ranch in Wyoming left me scrappy, hungry, and full of grit. Getting bucked off Socks gave me the understanding that getting knocked down is part of life. But it's those knocks that produce the grit we need to be successful.
Grit is doing what is needed even when you don't know exactly how to do it. Grit is determination, persistence, and endurance.
Sports psychologist Tim Woodman has done several studies on what makes superior athletes. He spent a lot of time interviewing many top performers, and the one thing that he came away with was this: nearly every top performer in his study had experienced a critical negative event in their life—parents divorcing, a death, disease, or some other perceived loss—and they experienced it early in life.
Winners learn early that life is hard. Pain is inevitable. Growth is optional—LaRae Quy
Hard times create the need for a coping system. Because there is one of two ways to react to the crap that happens in life: you can whine, complain, and blame others. Or, you can take responsibility for your own actions, grit up, and look for solutions.
TIP: Learn to overcome adversity by developing a grit-up attitude.
It's your choice—you can allow a mindset that tells you failures have created trauma that you can't get past. Or, you can decide to look at your adversity as an opportunity to learn and grow.
3. Express Gratitude
Hunt the good stuff in your situation and express gratitude for what you find because you cannot be anxious and grateful at the same time.
The area of the brain that produces anxiety and fear overlaps with the area of the brain responsible for positive emotions. This is one of the reasons it's hard to be stressed out and grateful at the same time.
TIP: Use mental toughness to override your fear by focusing on positive emotions so they can tamp down negative ones. When you are mentally strong, you decide how to overcome adversity by choosing which positive emotions to focus on.
4. Acquire Lots Of Information
FBI agents making arrests face the unknown because they can't predict how an individual will react when arrested. To alleviate the fear they may experience, they collect information in several different ways:
First, they collect information about themselves. They practice arrest scenarios with red handled guns that do not have firing pins. This provides feedback on how they respond to different situations. It allows them to constantly fine-tune their response so they can anticipate a good outcome when confronted by the unknown.
Second, they collect as much information about the person to be arrested as possible. The agents can prepare if they have reason to believe the suspect might be armed and dangerous.
Third, agents qualify in firearms 4 times a year to fine-tune their skills. By the time they actually make an arrest, they have enough muscle memory that they don't even have to think about what to do because they've done it before so many times.
TIP: You'll have a better chance of coming out a winner if you practice or rehearse your performance ahead of time. It might not be possible to replicate the exact experience, but pay attention to your response in similar situations so you can decide whether or not you need to fine tune it.
5. Visualize Your Success
Visualize how you will overcome adversity. When you visualize your success, your brain releases a neurotransmitter called dopamine. That is the chemical that becomes active when you are rewarded or have positive feelings. Dopamine enables you to not only see rewards, but to move toward those rewards as well.
By visualizing your performance, your brain actually stores that information as a success.
There is one important caveat here, though; your brain is not easily fooled. It knows the difference between visualizing your success and fantasizing about something you can never do, like being a rock star on stage. Your brain will only store it as a success if it represents real life and real situations you will encounter.
TIP: Educate yourself about your fear, find out as much as you can, and then practice how you can overcome it.
© 2017 LaRae Quy. All rights reserved.
You can follow me on Twitter, Facebook, Instagram, AND LinkedIn
Are you mentally tough? Here is my FREE Mental Toughness Assessment
Get my new book, "Secrets of a Strong Mind (second edition): How To Build Inner Strength To Overcome Life's Obstacles"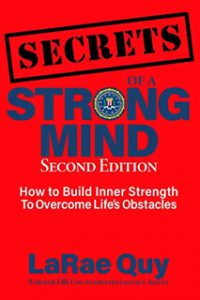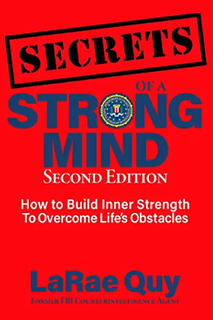 Author of "Mental Toughness for Women Leaders: 52 Tips To Recognize and Utilize Your Greatest Strengths"