We are more likely to build personal and professional relationships with people we like. In doing so, we are drawn to people who are charming, polite, and modest.
Charm is the power of pleasing or attracting others through our personality. There are arguments that social media is damaging our people skills, but I disagree. The charm of manners and personality is as important in social media and news outlets as it is in face-to-face conversations.
A lot of people know how to be rude, blunt, and offensive but a lot of people also know how to be charming. In the world of sales, business, and startups, it's impossible to change people's minds unless you change their hearts, too.
Here are 9 habits of incredibly charming people:
1.

CHARMING PEOPLE USE THE RIGHT BODY LANGUAGE
They step forward, with a genuine smile, eyebrows arched, head tilted, and a slight bow—a clear sign of deference in every culture—and offer a firm handshake.
This body language signals that we have put aside all pretense of power and self-importance to indicate we are honored by the introduction. Our body language is often the first thing others notice about us, so we need to be certain we are sending the right message.
Not everyone is excited about meeting an FBI agent, so the initial messages I sent with my body language went a long way to opening the other person up to a genuine conversation.
2.

CHARMING PEOPLE KEEP THEIR EGO IN CHECK
They look for points of agreement; sometimes the search is hard but they find ways to understand the other person's point of view. 
This doesn't mean they are afraid to voice their own opinion—when asked and when appropriate! Our ego often insists that we demand our right to express our own opinion; charming people know how to keep the ego in check so someone else can have the main floor.
My job in the FBI was to recruit foreign spies to work for the U.S. government. Often, I wanted to spout off about why America was a better place to live than their country. I learned, however, that what is right for me might not be right for them, even if that meant swallowing my pride and admitting defeat.
3.

CHARMING PEOPLE NEVER NAME DROP
Very little is more annoying that meeting someone who constantly name drops about all the important people they know. Or, brags about their points of contacts.
Charming people may know lots of fascinating people, but they don't talk about it.
When interviewing people, I always made it a habit to treat the person in front of me as the most important person in the world to me at that moment. And they were important, either to me or my investigation—they key was letting them know it.
4.

CHARMING PEOPLE REMEMBER FACES AND/OR NAMES
They work hard to remember names, faces, or even small details of the other person's life. The fact that they remember those specifics always makes the other person feel better about themselves.
If they remember something about us, we will remember something about them.
I am very bad with names and repeating the name 3 times does not help me to remember at all. I am much better with faces, though, so I try to link something about the person's past history to the face. That way, even if forget their name I can create rapport by mentioning the factoid that I do remember.
5.

CHARMING PEOPLE LISTEN TO WHAT OTHERS HAVE TO SAY
They focus on the person in front of them—whether they are knee-to-knee and nose-to-nose with a person or in front of a computer screen answering emails. They don't lapse into planning tomorrow or checking items off their to-do list.
Deep listening means being present with both sides of the conversation—not just your side.
Many times the individuals I was trying to recruit for the FBI spoke such poor English that I really did have truly concentrate to understand what they were trying to say. The more I focused on listening to them, the more they opened up.
6.

CHARMING PEOPLE ADAPT THEIR PERSONALITY TO THE OTHER PERSON
They know how to match their personality to their employees, prospects, and clients. This means they must quickly assess whether the other person was an introvert or extrovert, analytical or a visionary, purpose-driven or security-driven, goal-oriented or people-oriented.
If you've been a good listener, you will be able to make these distinctions.
When listening to one particular foreign spy talk, I quickly determined that he was not a risk taker so I immediately re-framed the conversation. Instead of making a single suggestion, I offered a series of smaller, bite-sized ones he could take time to consider, and get comfortable with, before we moved onto the larger goal (that is, working for the U.S. government).
7.

CHARMING PEOPLE ARE SINCERE
They take the time to develop relationships so they can accurately understand people's needs, desires, and fears. Until this happens, it's very difficult to engage people in any meaningful way.
Sometimes it's not all about the money. The days of hard pitches to close sales are over. Customers are getting too sophisticated for this approach; they use mass media to educate themselves about a product and make their decisions right then and there.
If we're on the losing end of this decision, our job is to change their mind by changing their heart.
The foreign spies I tried to recruit were suspicious of me and professed loyalty to their government. Understanding that, I could couch my conversations with them in ways that would not impugn their loyalty or trustworthiness.
8.

CHARMING PEOPLE ARE RESPECTFUL OF OTHERS
They know how to give others the respect that is due to them without trying to belittle them in the process.
In a culture that at times seems to be losing its ability to have respect for the opposing point of view, this is an extremely important habit to cultivate.
When a suspect in one of my investigations understood that the FBI had no intention of bullying them or resorting to extortion (despite how the FBI is portrayed in TV and movies), I always sensed their gratitude for the respect that was shown to them.
9.

CHARMING PEOPLE HAVE TACT WHEN IN DISAGREEMENT
They know what to say or do to avoid giving offense. Tact is essential when dealing with difficult or delicate situations.
Do not ask embarrassing questions that put people on the defensive. If you're uncertain how to move forward with a difficult conversation, try role-playing with a friend and ask for their input. Are you coming across the way you want?
One foreign spy expected to be blackmailed (for what, I don't know—it made me think I hadn't watched him closely enough!) It was important that he walk away from our conversation with his dignity because I wanted to leave the door open for future conversations with him. Over time, he felt comfortable enough with me to provide valuable assessment on his fellow intelligence officers.
The charm had worked!
How have you charmed people?
© 2016 LaRaeQuy. All rights reserved.
You can follow me on Twitter, Facebook, Instagram, AND LinkedIn
Are you mentally tough? Here is my FREE 45-Question Mental Toughness Assessment
Get my new book, "Secrets of a Strong Mind (second edition): How To Build Inner Strength To Overcome Life's Obstacles"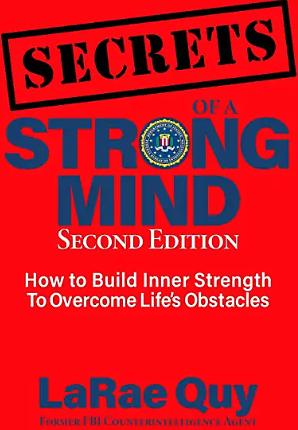 Author of "Mental Toughness for Women Leaders: 52 Tips To Recognize and Utilize Your Greatest Strengths"