Video/Audio
Hot Tips for Biz with Cynthia Bazin & Wanda Baader
Join me, Wanda Baader from Strategize Your Success and my co-host Cynthia Bazin from SmartChic as we talk with LaRae Quy, former FBI agent about "Mental Toughness".
LaRae will share:
What is mental toughness and why do we need it?
How we can become mentally tough and what are the areas we need to look at?
How we can take our business or life to the next level if we hit a snag.
How we can use mental toughness to predict our success.
And so much more!
---
Go – Giver Podcast with Bob Burg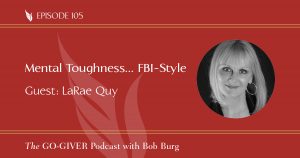 105 Mental Toughness… FBI-Style
Often, the most effective way to stay self-disciplined is to not depend on your ability to stay self-disciplined. We'll look at that in our Thought of the Day. And in our interview segment, former FBI counterintelligence agent LaRae Quy shares the importance of resiliency to one's ability to be mentally tough. That and more on today's show.
You'll discover:
---
Executive Girlfriends Group Vignette Series with Chicke Fitzgerald
Mental Toughness for Women Leaders: 52 Tips To Recognize and Utilize Your Greatest Strengths
But mental toughness has little to do with physical strength or aggressive behavior; instead, it is understanding how to control the way your mind thinks. In Mental Toughness for Women Leaders, former FBI undercover and counterintelligence agent LaRae Quy shares how she created a strong mind by overcoming obstacles she encountered while at the FBI Academy, working in a male-dominated environment, and recruiting foreign spies to work for the U.S. Government. As an FBI agent, LaRae believes that while theory is nice, evidence is better when you are serious about looking for ways to achieve goals in life. She relies upon science-based research and real life experiences as she explains how you can clarify your goals, take practical steps to make them happen and connect with your ultimate purpose.
---
The Iron Jen Show with Jen McDonough
How to Get Along with Co-workers Who Are Losers
LaRae Quy was an undercover and counterintelligence FBI agent for 25 years. She exposed foreign spies and recruited them to work for the U.S. Government. As an FBI agent, she learned about surviving in an environment of risk, uncertainty, and deception. Faced with stressful and fast-moving situations, she needed to over come obstacles and break through barriers if she was to succeed. LaRae is the author of "Secrets of A Strong Mind."
---
Uphill Conversations with Tim Pecoraro
Post 19: Mental Toughness
LaRae Quy was an FBI counterintelligence and undercover agent who exposed foreign spies and recruited them to work for the U.S. Government. A good FBI counterintelligence investigation uncovers new information about the spy to gain deeper insights into what influences their behavior and attitudes. LaRae's job was to dig beneath the surface, probe the unknown, and…The post 19: LaRae Quy – Mental Toughness appeared first on Uphill Conversations.
---
Inside Mastery with Martin Soorjoo
Mental Toughness Secrets From a Former FBI Agent
Today I'm talking to former FBI counterintelligence and undercover agent LaRae Quy. During her career in the FBI, LaRae exposed foreign spies and recruited them to work for the US government. She is now a leadership and mental toughness coach. LaRae is also the author of Secrets of a Strong Mind and Mental Toughness for Women Leaders.
Listen in as we discuss her experience and insights into mental toughness: what it is, why you need it, and how to develop it.
"If you don't know yourself, you're going to have a very hard time knowing what is best for you as you move forward." – LaRae Quy
Read full text…
---
Smart Business Revolution with John Corcoran
How to Read People Like an FBI Special Agent
LaRae Quy looks nothing like a FBI agent.
When LaRae showed up for basic training at FBI training headquarters in Quantico, Virginia, some of her fellow agents-in-training thought it was a joke: she was in her late 20s, blonde, and her most recent job was as a buyer in a high-end department store.
Read full text…
---
In Layman's Terms with Joyce Layman

Mental Toughness: "Never ask, Can I do this? Instead ask, How can I do this?"
LaRae Quy was born and raised on a cattle ranch in Wyoming where she learned many of the survival skills she would need as an FBI agent. Even though LaRae had scored exceptionally high on cognitive and personality tests, she found herself in an environment that openly questioned her qualifications to become an agent. She refused to let others define her and used their criticism to fuel her determination.
Read full text…
---
 Blunt Talk with Gino Arcaro
Mental Toughness: FBI Agent Larae Quy
The difference between those who get done what others believe can't get done is how they define lost-cause. How you define lost-cause is the difference between what is won and what is lost. Guest LaRae Quy from San Francisco, California, ex-FBI agent and author, shared powerful real-life insights about how to overcome extreme adversity to make it happen. Guaranteed to lift. X Fitness is committed to lifting in body, mind, and soul. There's enough depressing news. We won't add to it. Good Inspirational News Only. Free, permanently archived downloads compliments of X Fitness. Blessings & all good things.
---
Business Confidential Now with Hanna Hasl-Kelchner
Remarkable Truth About Mental Toughness and Effective Leadership
Mental toughness is a phrase that triggers unflattering business stereotypes in your head. But today's guest claims it's a skill that every executive, manager and entrepreneur really needs. Join host Hanna Hasl-Kelchner as she welcomes mental toughness expert LaRae Quy to find out what in the world she's talking about.
Read full text…
---
The Accidental Guru Radio Show with Dov Baron
Former FBI agent and author of "Secrets of A Strong Mind"
You will be riveted as you tune into this episode of Dov Baron's Accidental Guru Show. My guest this week spent 24 years in the FBI and most of it undercover bringing down criminal organizations and even turning spies into double agents.
---
The Osgood File on CBS Radio Network with Charles Osgood


Are YOU Mentally Tough?
See how YOU Score
Mental toughness is believing you will prevail in your circumstances rather than believing your circumstances will change. Find your Mental Toughness score - see where you excel and what areas need attention.