Mentally tough people have surrounded me my entire life. My Dad picked away at a challenge until he found a way around it.
As an FBI agent, I found even more mentally strong people who worked their way through sticky and complex investigations. They took bold new directions that required grit and spunk. They set themselves apart from the crowd. Where others saw barriers, they saw challenges to overcome.
I learned there is no one secret to success. There is no single habit that will guarantee you'll make it to the top. There are, however, behaviors that mentally strong people have in common to help them achieve their goals:
1. They Never Spread Negativity
It is tiresome to spend time around negative people. They spread no joy and relish dropping little bits of acid on everyone they meet; just enough to make sure their misery finds ample company. Some of the most negative people come disguised as family and friends.
If you surround yourself with negative people who don't have dreams of their own, then guess what? You will be just like them.
TIP: You reflect the 5 people with whom you spend the most time. Distance yourself from losers who dwell on negativity.
2. They Don't Give In To Indifference
Indifferent people find themselves satisfied with the status quo and eventually end up in a comfortable rut. They make excuses, blame others, and usually whine a lot to whoever will listen to them. To sum up: they are lazy, passive, and boring as hell.
When you care about something, you become unstoppable. Mentally strong people learn how to focus and prioritize their thoughts. They pick what is important to them, what they care about. This can be difficult, however, because it takes discipline
TIP: Pinpoint which values are important enough that you will become unstoppable in achieving them. When you care about something, you will do what you feel is right. That is what will make you unstoppable.
3. They Don't Let Resentment Rear Its Ugly Head
Fear often hides itself in resentment. We fear the future, are angry about the present, and resent something that has happened to us in the past. Resentment rears its ugly head when we can't let go of a slight or injustice, whether real or perceived. It's nothing more than feeling sorry for yourself because things didn't go your way.
Shit happens. It can hurt us and those feelings of anger are real and legitimate. But, if we let emotions simmer beneath the surface, they grow and eat away at us. Mentally strong people don't waste precious energy on crap emotions like resentment. It sucks up too much of our stamina, the strength we need to achieve our goals.
TIP: The best way to eliminate resentment is not to set yourself up for it. Remember a time when someone asked you to do things for them. Subconsciously, you form expectations of what they'd do for you in return. If there's a chance of you thinking, "what's in it for me," you're headed for future resentment.
4. They Don't Avoid Pain
The pursuit of happiness has gotten to be a problem. We are told happiness is something they can work for, achieve, or buy. Pain is nature's way of inspiring change in our life. Let's face it—if everything was perfect, would it motivate us to be innovative and survival-driven?
The constant building, conquering, and striving is the product of pain and dissatisfaction. Pain spurs action and mentally strong people understand that pain can show us where and how to take our next step.
TIP: Don't coddle yourself or your children. Life is difficult. Pain is inevitable. Growth is optional.
5. They Don't Buy Into Victimhood
It's become popular these days to be a victim. It's possible to be offended about anything. We deserve to be outraged and we expect our pathetic little grievances to get attention.
There are legitimate victims out there, but they're not the anemic gripes that pass themselves off as news these days. Mentally strong people understand infractions happen for many reasons, but to bitch about them to whoever will listen does nothing but take focus away from the real victims.
Rejection is a part of life, so grit-up, and grow up. Feeling offended gives us a sense of self-righteousness and moral superiority.
TIP: Tim Kreider said the following in a New York Times op-ed: "Outrage is like a lot of other things that feel good but over time devour us from the inside out. And it's even more insidious than most vices because we don't even consciously acknowledge that it's a pleasure."
6. They Don't Shy Away From Failure
We are programmed at an early age to avoid failure. Both parents and teachers pound into our heads that failing produces losers. Slick ads show us how winners look and live and they reinforce our desire to avoid failure.
Mentally strong people are the ones who continue to improve and innovate their craft. Performance improvement is built around the idea that failure is the best way to move forward. We fail, we evaluate and analyze why we failed, and try another iteration. This is the attitude that helps us weather the "shit storm" when we face a roadblock in business or life.
TIP: You're only stupid if you don't stop and learn from each failure. Don't allow yourself to keep doing the same thing, each time hoping for a different result. You already know that one approach doesn't work, so be smart and learn the lesson failure teaches you.
7. They Don't Become Rigid In Their Thinking
When people set out to achieve their dream, they make goals to help them get there. Goals become the focus rather than the dream. That's fine until they hit a roadblock or obstacle. Then, the goal is the thing to achieve rather than the dream. Our vision, or dream, often takes a back seat because we've become so focused on achieving our goals.
Every New Year begins with: what are your goals this year? The real question should be: what goals need to be modified this year to keep you moving toward your dream?
Mentally strong people understand their thinking must remain nimble and flexible. They evaluate the challenges that present themselves and pivot so they can adjust to them.
TIP: Instead of writing a list of goals, revisit your dream or vision. Then write the steps needed to get you there. Those steps are your goals.
© 2017 LaRae Quy. All rights reserved.
You can follow me on Twitter, Facebook, Instagram, AND LinkedIn
Are you mentally tough? Here is my FREE Mental Toughness Assessment
Get my new book, "Secrets of a Strong Mind (second edition): How To Build Inner Strength To Overcome Life's Obstacles"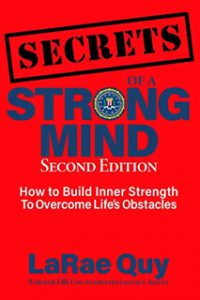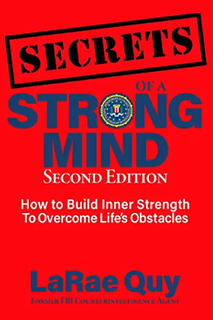 Author of "Mental Toughness for Women Leaders: 52 Tips To Recognize and Utilize Your Greatest Strengths"