As a new agent at the FBI Academy, happiness was not a priority. Our instructors took great delight when they uncovered our weaknesses. Once discovered, their dry little hearts made it their mission to push us as far into our discomfort zones as possible.
I had trouble with push-ups. My coach made sure he was the one to count them for our interim FIT test. He counted each push-up when we started out. When we hit the ninth push-up, he repeated, "Nine, nine, nine." I did the ninth push-up nine times before he counted it!
All the while I'm thinking, "I don't have any reserves left. I've wasted them all on the ninth push-up." You guessed it: I finished the test and missed the critical points I needed to graduate from the Academy.
This was one of the most important failures of my life because the consequences were tremendous: I would not become an FBI Agent.
Time and time again, I go back to this failure to explain my success in life. The failure was traumatic. I hit rock bottom and was filled with desperation. It was at that moment, however, that I heard my calling. I wanted a career that would provide my life with value and meaning. For me, it was the FBI.
Every leader, entrepreneur, and business owner will have a different answer. But, to take charge of your career, you will need to dig down and uncover what provides your life with value and meaning. If you want happiness, it will need to be about more than money. If you make money your top priority, your soul will be sucked dry.
We all have a choice to make. We can whine about the raw deal life has handed us. Or, we can take charge of our life and focus on the things that truly matter. Because, guess what? Once we find the things that truly matter, we will find something much richer than happiness. We will find contentment and joy.
Here are 3 effective ways to take charge of your career (and yes, maybe find a little happiness as well):
1. Find A Path with Heart
If there is heart in your path, failure is nothing but another opportunity to try again. Mental toughness enables you to attack the same problem again and again, but each time you're a little smarter about it. Your tactics may need to change, and you may be required to re-route, but the destination will be the same.
If there is no heart in your path, failure will seem overwhelming. Failure will be enough to persuade you to try something new, and you will drift until you finally succeed at something. Average people stop there—at success. And pretend, or hope, that their heart can be found there.
Failure can be a wonderful clarifying process. It can fortify your determination to succeed, or it can lead your mind to wander so it can consider another direction in life.
Once I realized my career as an FBI Agent was in jeopardy, my calling became crystal clear. I built up the strength to pass the push up test.
How To Make It Work For You:
To take charge of your career, you will need to distinguish between passion and heart. Passion is an overused and overworked term. When someone starts talking about their passion, I break into a nervous sweat. It usually means their obsession of the moment. It's easy to be passionate when things work out, and this is what makes passion do seductive. But when passion ebbs, it can evolve into frustration and annoyance.
Heart, on the other hand, is deeply embedded into the DNA of your being. It is who you are, stripped of all pretenses and baggage. If your failure is attached to a project that has heart, you will not be deterred by a few bumps on the road.
2. Align Goals with Your Heart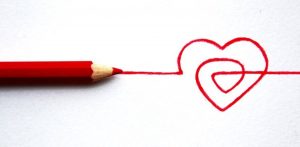 Many people focus on yearly goals, but that is a big mistake. Instead, identify what brings you a sense of joy. Then create goals to get you there. Let's be honest: the real reason you want to be a millionaire is so you have the freedom to pursue the things that create excitement for you!
Get clear about what you want. What is the result you're looking for? Do you want better relationships, financial independence, or is there something else?
Dr. Gail Matthews, a psychology professor at Dominican University in California, did a study on goal-setting with 267 participants. She found that we are 42% more likely to achieve our goals when we write them down.
Over 80% of Americans do not have goals

16% say they do have goals but don't write them down

Less than 4% actually write them down
Without goals to anchor us, we find ourselves adrift in life. We rely on goals to give us direction, but they only get in the way if they aren't attached to something that creates joy and excitement for us. This is better known as the life-deferment plan—"someday I'll get around to it."
I passed the final physical fitness test and became an FBI Agent. Even in the midst of all the worry and anxiety there was a peace, because at the center of it all I had aligned my goals with where I truly wanted to go in life.
How To Make It Work For You:
To take charge of your career, here are some ways you can align goals with your heart:
Name the things that you look forward to in your day or week.

Recognize that your dream can also be a calling and that you may have more than one.

Stop being a slave to the life or job that is not fulfilling.

Minimize time spent on meaningless work.

Create time to pursue projects that do create excitement and life. Many of us have financial obligations that necessitate the need for those projects to remain a hobby. Don't give up on them, though.

Write your most important goal on a blank sheet of paper and brainstorm ways to make it happen.
3. Examine The Labels You Give Yourself
The labels that others give you don't matter as much as the ones you give yourself. Those that are self-imposed are boundaries that can limit where you move. Subconsciously, you may not let yourself cross them.
"Not an athlete" was a label quickly given to me in the first few days of the Academy. I trained but made little progress. I gradually came to understand that not only had my classmates given me this label, but that I had accepted it, too. As long as I kept it, I wouldn't be able to move beyond the self-imposed boundaries.
Happiness is not how I would describe how I felt about my situation at that moment. However, I knew that if I wanted to be fulfilled in the future, I would need to find a way to take charge of my career. Sooner, not later. Once I peeled back the label, I found an inner strength that translated to physical strength as well.
How To Make It Work For You:
To take charge of your career, here are some ways you can examine the labels you've given yourself, or accepted from others:
Recognize barriers that you've placed around yourself.

Pinpoint where those barriers came from. Most self-limiting beliefs are imposed on us by family, teachers, or associates from an early age.

Disregard limits that have been imposed by others.

Respect the boundaries imposed by your own personality. This means you need to be honest about your strengths and weaknesses.

Most of the barriers that prevent us from living a full life are based in fear. There are many fears that show up in all personalities, such as fear of failure, success, intimacy, and change.
In our relentless pursuit of happiness, we've missed the value of pursuing the things that truly excite us in a deeper and more meaningful way. Take charge of your career, and life, and focus on what is important to you.
© 2018 LaRae Quy. All rights reserved.
You can follow me on Twitter, Facebook, Instagram, AND LinkedIn
Are you mentally tough? Here is my FREE Mental Toughness Assessment
Get my new book, "Secrets of a Strong Mind (second edition): How To Build Inner Strength To Overcome Life's Obstacles"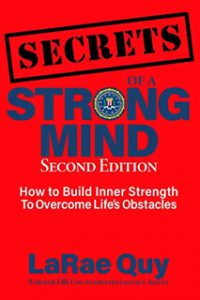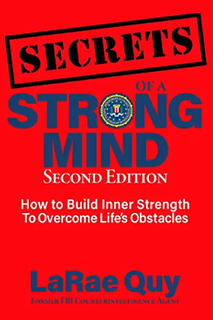 Author of "Mental Toughness for Women Leaders: 52 Tips To Recognize and Utilize Your Greatest Strengths"